temporary baseball fence Los Angeles
PORTABLE SOFTBALL & BASEBALL FENCING BUILT TO LAST
Sportaflex is at the forefront of safety design in home run fences. Stop searching for "temporary baseball fence Los Angeles" and contact us today.
temporary baseball fence Los Angeles
Our Sportaflex Premier Fence is a modular, portable, lightweight fencing system designed for use on athletic and recreational playing fields. Several optional attachments allow our portable fence panels to be used on any level surface, from natural grass to artificial turf, indoors or out.
Our Premier Fence comes in aluminum frames at heights of 4½ ft and 6ft. The poly-vinyl mesh is available in Black, Blue or Forest Green. Our fence design is ideal for all sports and recreational activities, including crowd control.
Optional attachments provide greater stability in soft turf, high wind conditions.
Advantages:
1. Aluminum frames designed and built to last
2. Professional look – turns fields into stadiums
3. Multiple Mounts depending on ground type
4. Supports advertising banners
temporary baseball fence Los Angeles
Our SPORTAFLEX FastFold is designed for the budget-conscious buyer who wants our Premier Fence look, but without all the frills. Although the spring option is not available, your venue can still have the stunning appearance of our deluxe aluminum fence, with the same 10' x 4 ½' dimensions, but with a long-lasting, galvanized steel material.
Designed for either artificial turf or grass (even solid surfaces such as asphalt or concrete), you can set this fencing up anywhere and secure individual panels with either our 'wicket-style' 15" spikes, or our SPORTAFLEX polyester sandbags which can be scaled to suit whatever weight supplement is necessary for the days' wind conditions.
Within a few moments, your FastFold fence frame can be unloaded and ready for play. All parts are already pre-assembled. Simply take the folded-up frame out of the box, fold out the legs, tighten the two main bolts and you're ready! And with proper care, you can expect to get ten to fifteen years' use out of this quality, steel-based product.
Easy foldup requires less storage space, and the polyester mesh comes preattached. The optional yellow top pad creates a uniform line of fencing across the top of your fence and enhances safety.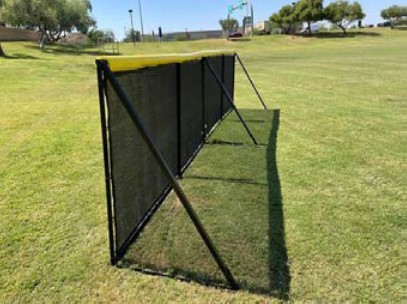 temporary baseball fence Los Angeles
Sportaflex's Economy Fence also utilizes aluminum poles, rather than plastic. Although not a complete frame, the Sportaflex Economy Fence provides poles that won't break, while giving parks the assurance of enhanced safety for it's players.
The fencing comes in rolls of 160, 100 and 50 foot rolls. Each section is supported with highly durable aluminum tubing, allowing for longer life, and a fence that stands up straight.
Advantages:
1. Aluminum poles
2. Easy to store roll-up mesh
3. Less expensive
Stop searching for "temporary baseball fence Los Angeles" and request a quote today.